I would like to thank all my readers, visitors and commentors here at Timberwolf HQ for their continuing support and loyalty. To that end I have designed a Totem that can be placed  in the sidebar or on a page of your own site.
Spread the word and spread the love, proudly display a Timberwolf HQ Totem on your site.
1. Select the Totem of your choice from the two displayed below.
2. Click on the 'view raw' link (located at the bottom right-hand side of the code box)  to see the code to copy.
3. Paste it into your sidebar (text widget if using WordPress) or somewhere else.
The code below gives you a clickable banner. This means that when people click on the banner they will travel to Timberwolf HQ.com
Timberwolf HQ Totem (200 x 200)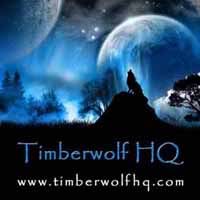 Timberwolf HQ Totem (125 x 125)
If you experience difficulties adding a Totem to your sidebar, feel free to send me an email using the contact form.